After completing a PhD in Behavioural Neuroscience Obie became an art teacher in Spain and then on his return to the U.K took his artistic interests into environmentally themed work. Between 2010-2012 he ran his own community art project business offering art activities to local communities and schools in the Norfolk area. During this time Obie also volunteered as an Environmental Education officer for the Suffolk Wildlife Trust at Lopham Fen in Suffolk and ran his own Marine and Coastal Wildlife Watch Group. Through the Suffolk Wildlife Trust Obie learnt about Forest Schools, carried out the level 3 training and then embarked on a new career as a Forest School Leader.
Roots and Branches Forest Schools Yorkshire
I have been working as Forest School Leader for six years. I began running sessions at Hollymeadows Primary school close to Kings Lynn in Norfolk. Fortunately the school had access to a beautiful Norfolk Wildlife Trust woodland with wild horses and acres of land in which to explore and go on wildlife treks with the children. This was a great introduction to Forest Schools practice and laid the foundations for the very successful self employed business I am now running at seven primary schools throughout North and West Yorkshire.
I am very passionate about Forest Schools and loves working with children of all ages. My Forest School practice is growing continually with new ideas and themes of work springing up all the time. I have a special interest in harnessing children's creativity through art and drama as well as nurturing emotional wellbeing and awareness through the teaching of meditation which forms a central element to my work.
Sessional fees are presently £75.00 for a morning or afternoon and £45.00/per session for after school clubs. I also runs out of school Forest School parties. Please get in touch about availability for all Forest School opportunities.
I've never seen children more engaged and happy as when they are climbing in trees or making dens. I feel so much gratitude for Forest Schools and the joy it brings into children's lives.
Dr. Obie Butcher
Art Statement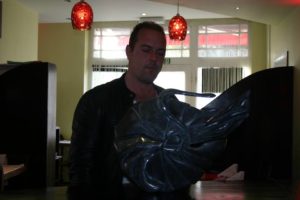 My sculptures are varied in style and form and take their primary inspiration from the natural world. My work as an artist has evolved from an interest in wood and stone carving through to the application of a range of materials in my new mixed media sculptures.
At present I am creating strange other worldly creatures whose organic form I interpret through the use of willow, feathers, glass and other materials I find on my travels. My latest sculpture is incorporating fiber optics. I am also becoming increasingly interested in ink drawings and am really enjoying developing my ideas with this new medium.
Please feel free to send me a message about sale of artwork presented on this website and commissioned work. I have completed a number of private commissioned works and has exhibited at many galleries in Norfolk whilst also more recently taking part in gallery exhibitions in Wakefield. I have also donated a number of his pieces of artwork during my time as a sculptor. These include the 100 butterfly piece which was donated to the environmental education centre at Lopham and Redgrave fen in Suffolk.
Many thanks,
Obie
Send Message